CUSTOMIZED SWIMMING POOLS

Design, quality, and functionality combined into perfection
Custom-made, exactly as you want it, individually equipped with a wide variety of options according to your wishes and tiled with the mosaic of your choice. The MLine series meets all your needs. Whether it's a 20-meter lap pool, a traditional pool or a custom spa. Whether it's a skimmer pool or an overflow pool. Modern lighting concepts, Plexiglas panels, high-quality whirlpool and counterflow systems, relaxation and rest areas… the possibilities are endless. 
And deliver it to you complete in one piece, ready to use, with all its parts integrated and factory tiled. Our professional partner companies take care of the installation on site: a fast and smooth process.  
Implementation Possibilities
MLine provides a wide range of possibilities to individually assemble your pool while enjoying the advantages of a prefabricated modular system. Choose your staircase model, the flap device, the shape, and size of the pool and, of course, don't forget to indicate whether you want to equip your pool with a skimmer or an overflow shaft. Customize your pool with your favorite mosaic, lighting, and technical equipment.  
 All these details will be discussed at an on-site meeting to fine-tune the project. Your pool will then be manufactured for you directly at the factory, completed and equipped with all the required accessories. It will be delivered to you in one piece and ready in a few days for your first swim.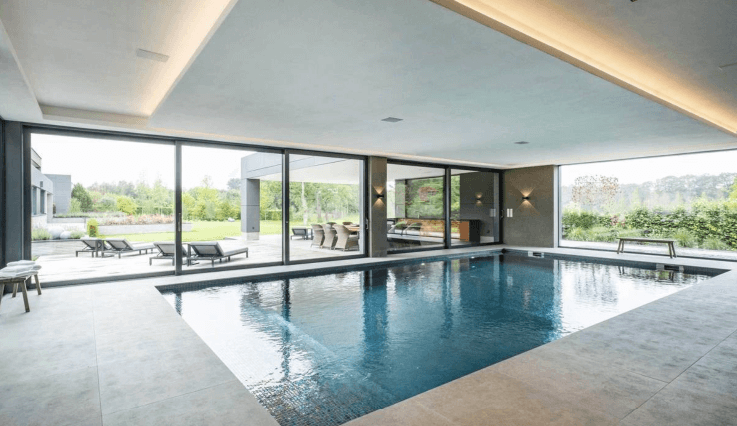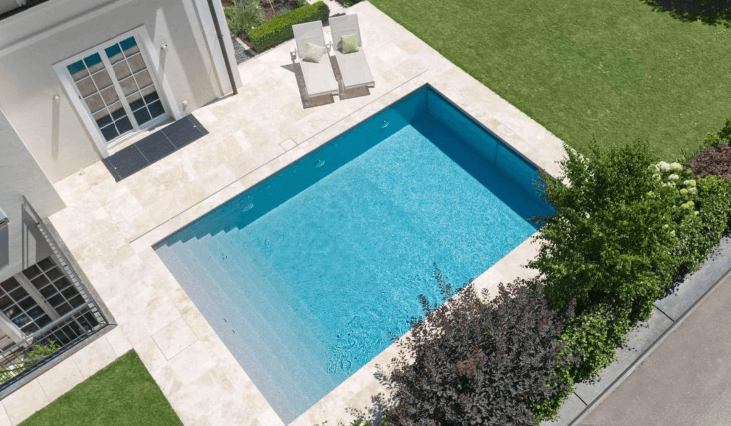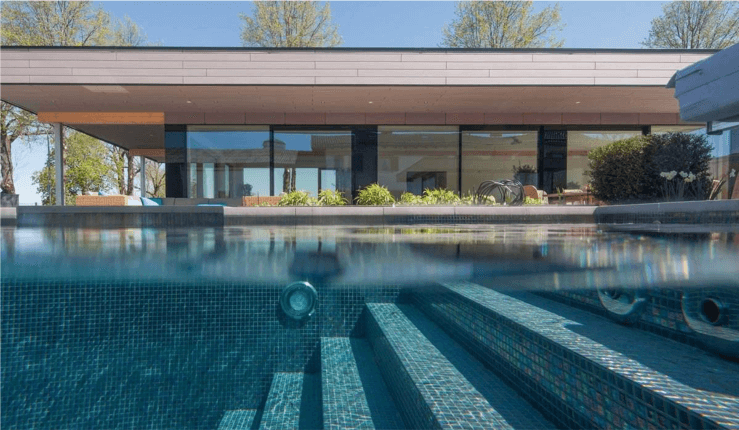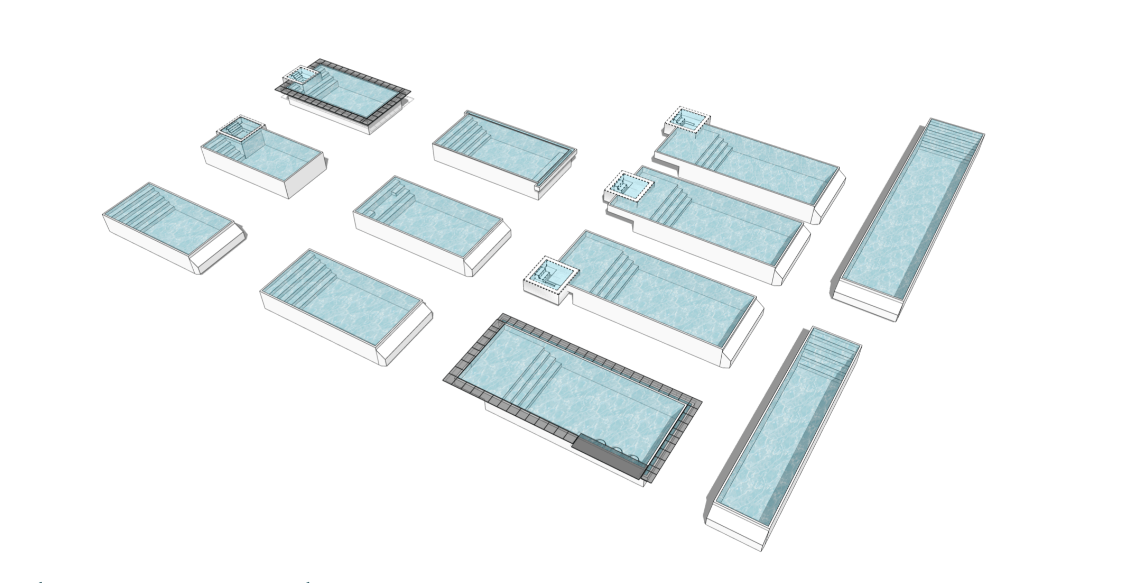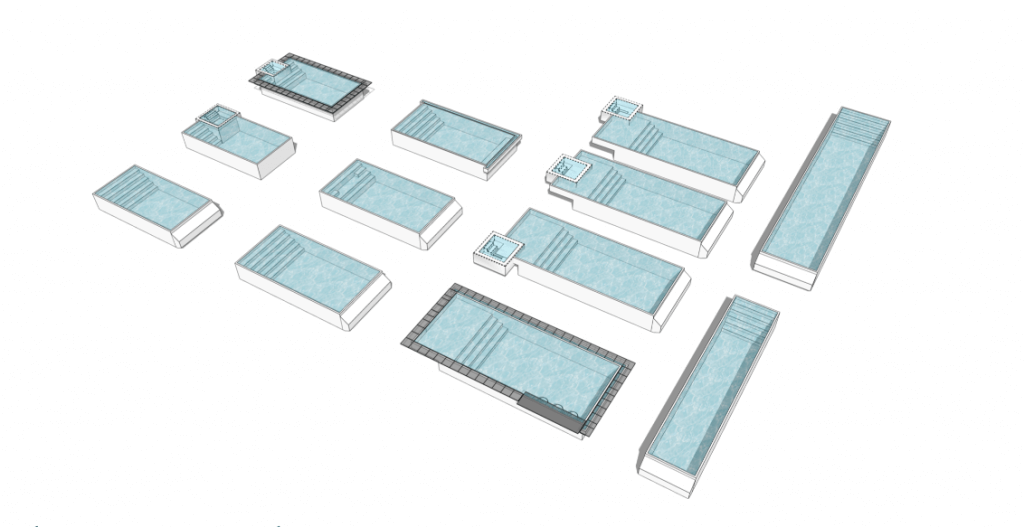 GUTTER SYSTEMS AND WATER LEVEL

Pools and options are available from RivieraPool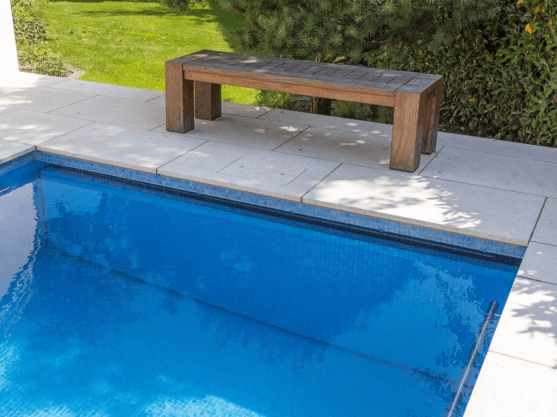 Skimmer
If you want to see a suspended pool deck above the water surface, you should ideally choose a pool with a skimmer and high water level. The coping stone protrudes about 5 cm above the pool wall: the water level is about 6 cm below it. This creates a discreet hollow joint, which is perfect for the installation of an indirect lighting system on the water surface.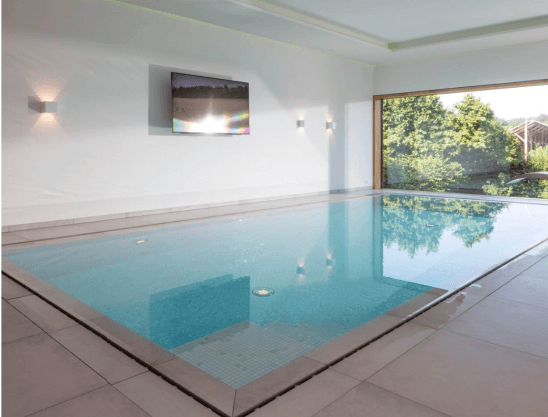 Covered Overflow Shaft
Do you want the water surface to blend seamlessly into the background like a submerged mirror? Then we recommend an MLine pool with a covered shaft. This way, the water will flow over the top edge of the pool and into the overflow shaft. The shaft structure can be covered with a floor tile, giving the impression that the deck floor extends under the water mirror and ends up against the pool walls.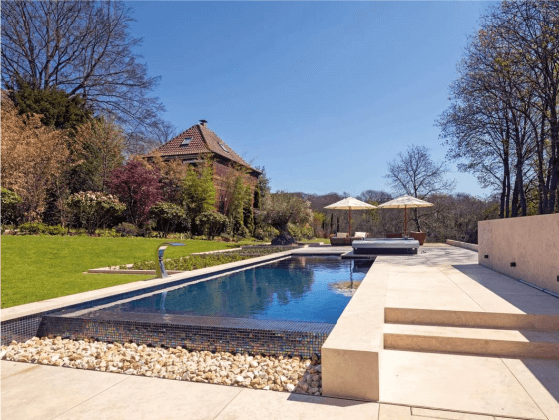 Panoramic Shaft
With the panoramic shaft, also called "vanishing edge", the water surface disappears on the horizon. No more visible shafts and floors: only an open view of the landscape. Panoramic shafts are often used in sloped areas in order to provide a clear view of the valley.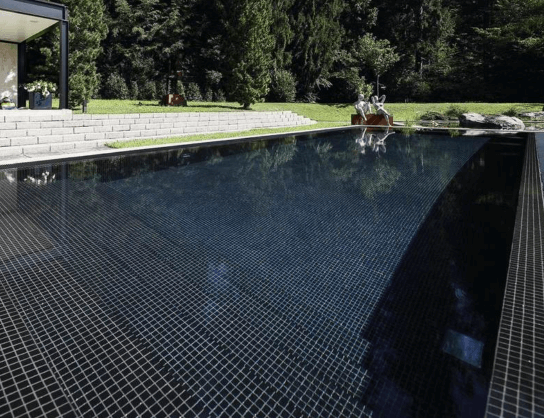 Overflow Shaft with Protection Grid
A protective grid, such as that required for professional use, is optionally available. This protective grid is characterized by its high capacity to absorb water splashes and by its easy removal for cleaning.