The pool for your outdoor living room
Combining a natural atmosphere with functionality, RivieraPool's D-Line prefabricated pool series is a modern nugget. The clean, crisp lines of these pools offer an unlimited amount of style and countless customization options. The D-Line eliminates any visually distracting technical elements and offers industry-leading customization options, whether it's a natural stone pool deck, overflow shaft or WetLounge. RivieraPool's D-Line pool series allows you to create your own water-centered sanctuary in your own backyard.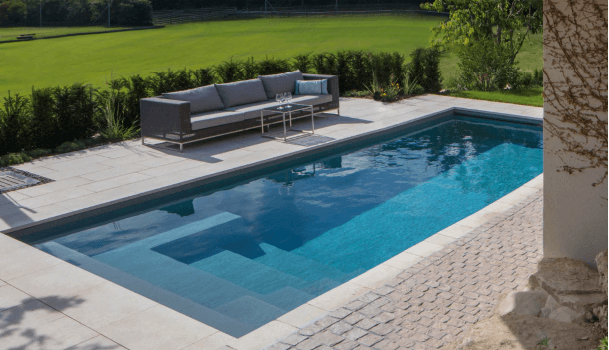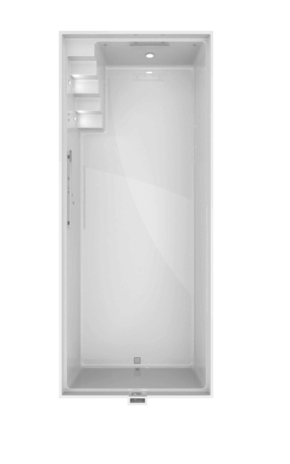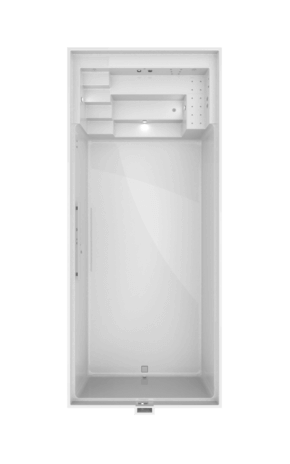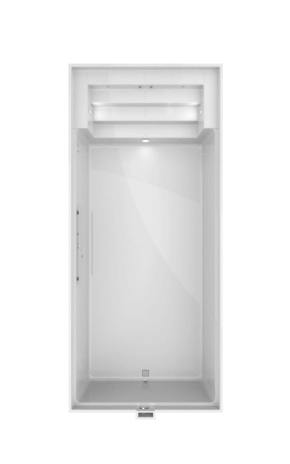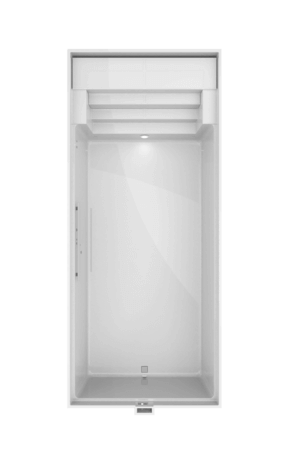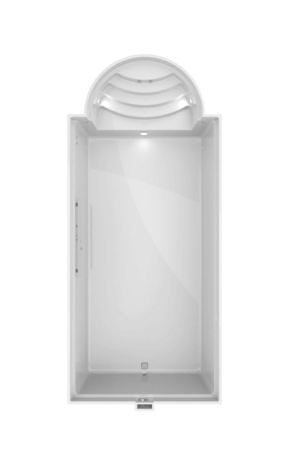 ANCONA
Five steps: chic and subtle 
The Ancona pool is elegant simplicity at its best. Offering everything a pool purist would want, the Ancona provides complete calm and restraint, while offering elegant functionality and aesthetic design. 
Massage facilities
> 5 straight entrance steps with a profiled anti-slip surface 
> Maximum swimming length
> Minimalist and timeless design 
> Optional underwater flap available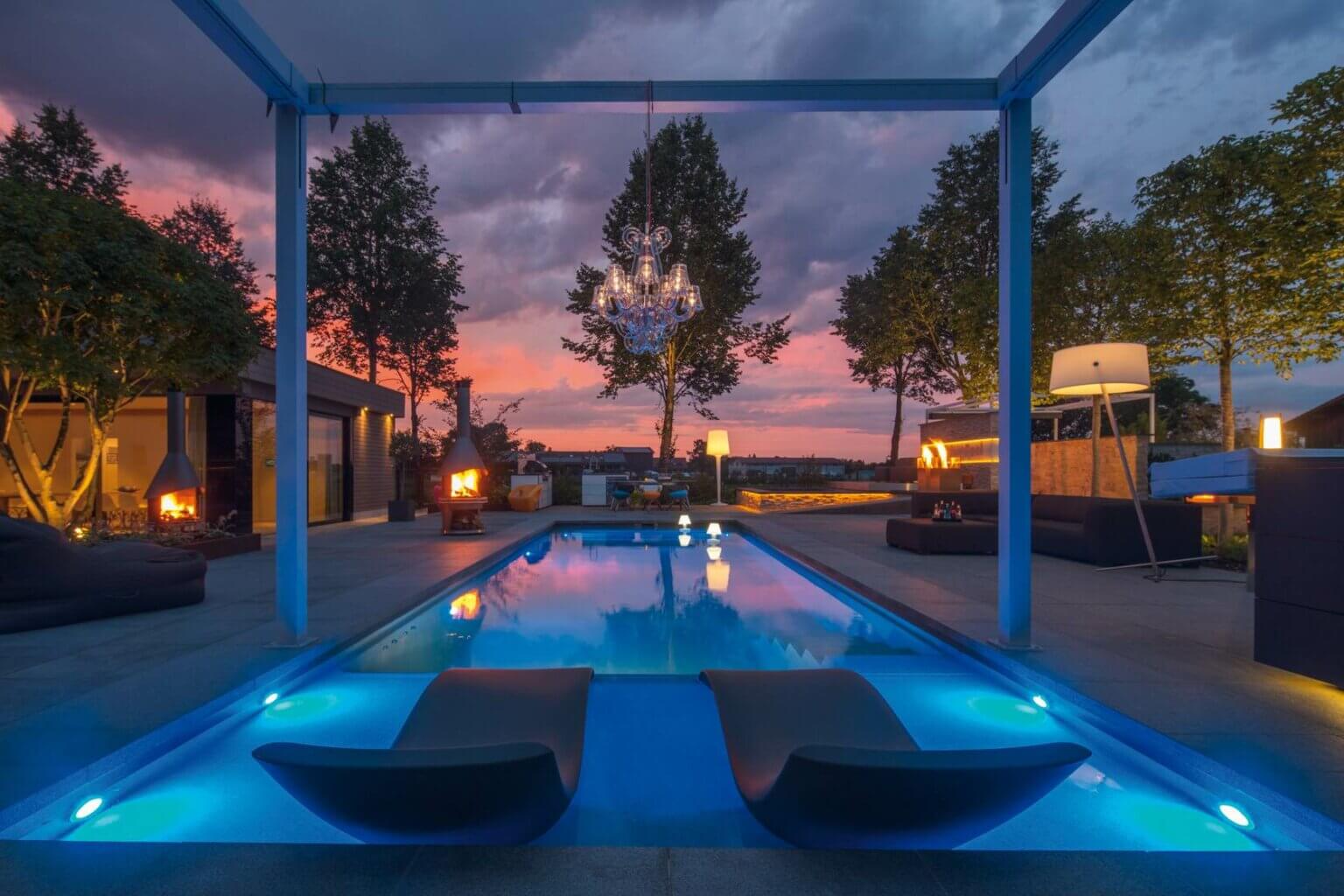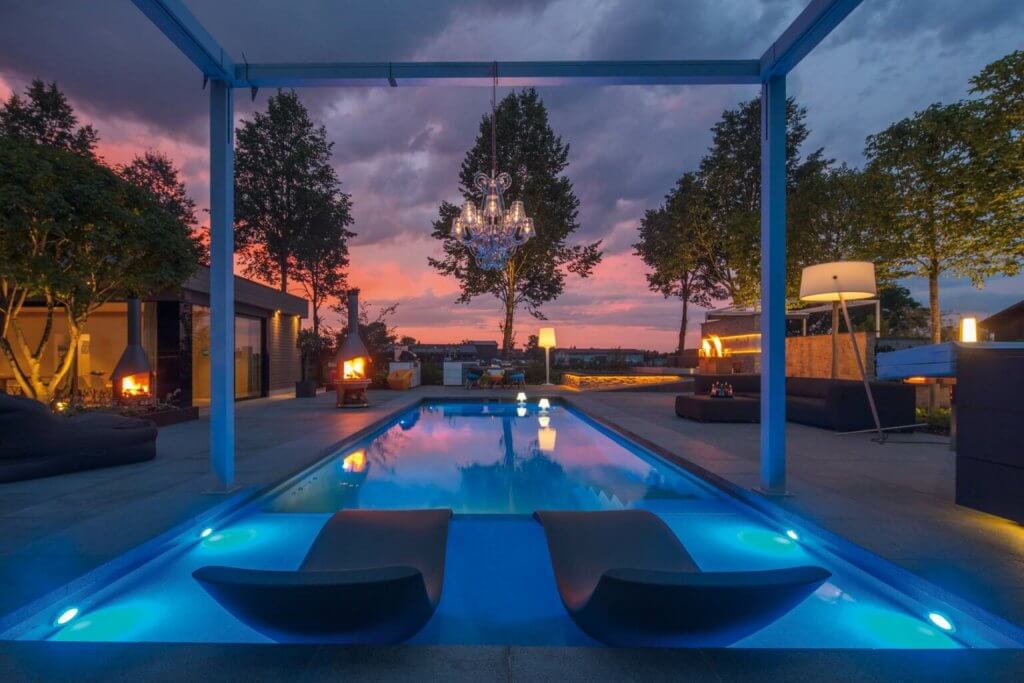 MODENA
Elegant design, optimal functionality 
The "Modena" has a set of steps with an integrated sitting area. On the side, the staircase is completed with steps for sitting and lying down. If desired, drainage and massage systems can be integrated into the staircase.
 
Massage facilities
> 6 safe entrance steps with anti-slip profile surface  
> Comfortable seating and relaxation areas 
> Fitness pool with optional massage and counterflow systems 
> Family pool 
> Optional underwater flap available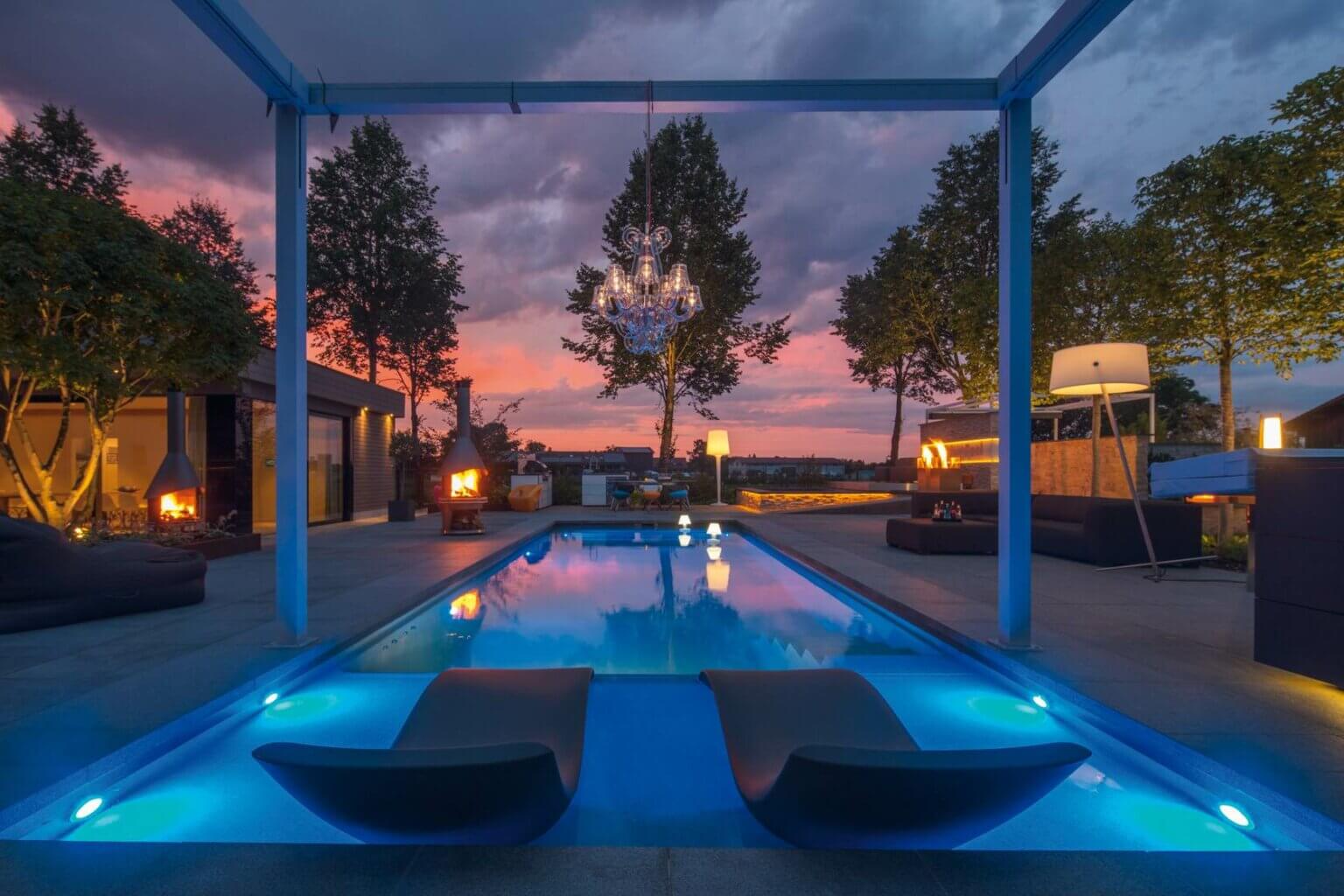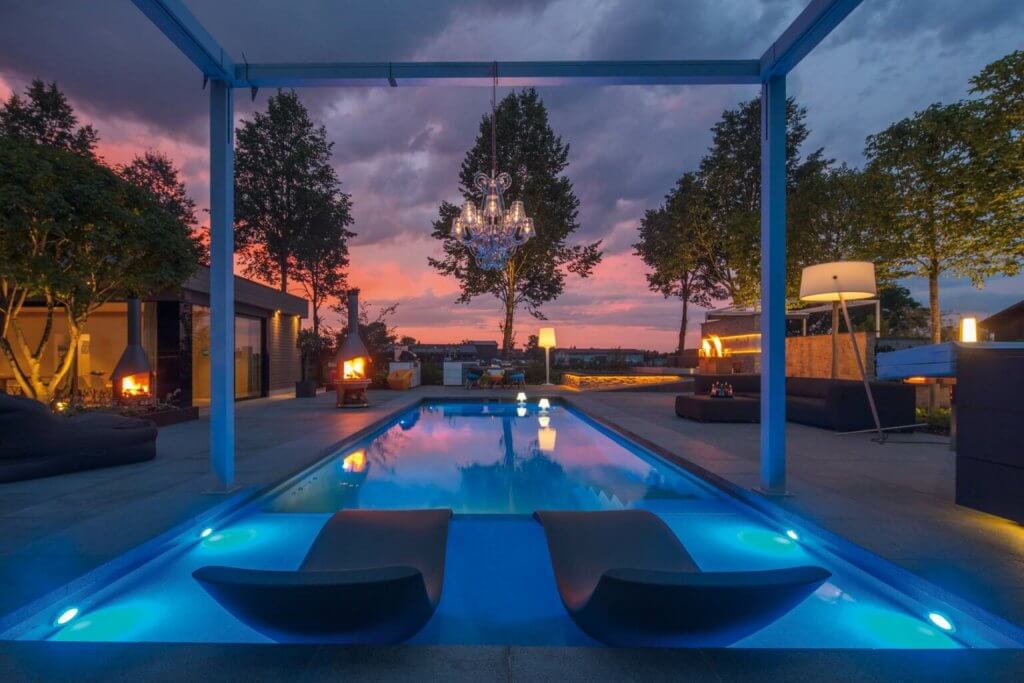 LINEAR
Straight and simple 
This staircase leads to the pool via four generous steps at the pool head. This staircase extends across the entire width of the pool head, creating straight lines to the water and giving the pool a very purist and elegant look. 
Massage facilities
> 4 comfortable entrance steps with anti-slip profile surface 
> Purist design 
> Comfortable staircase 
> Versatile
> Optional underwater flap available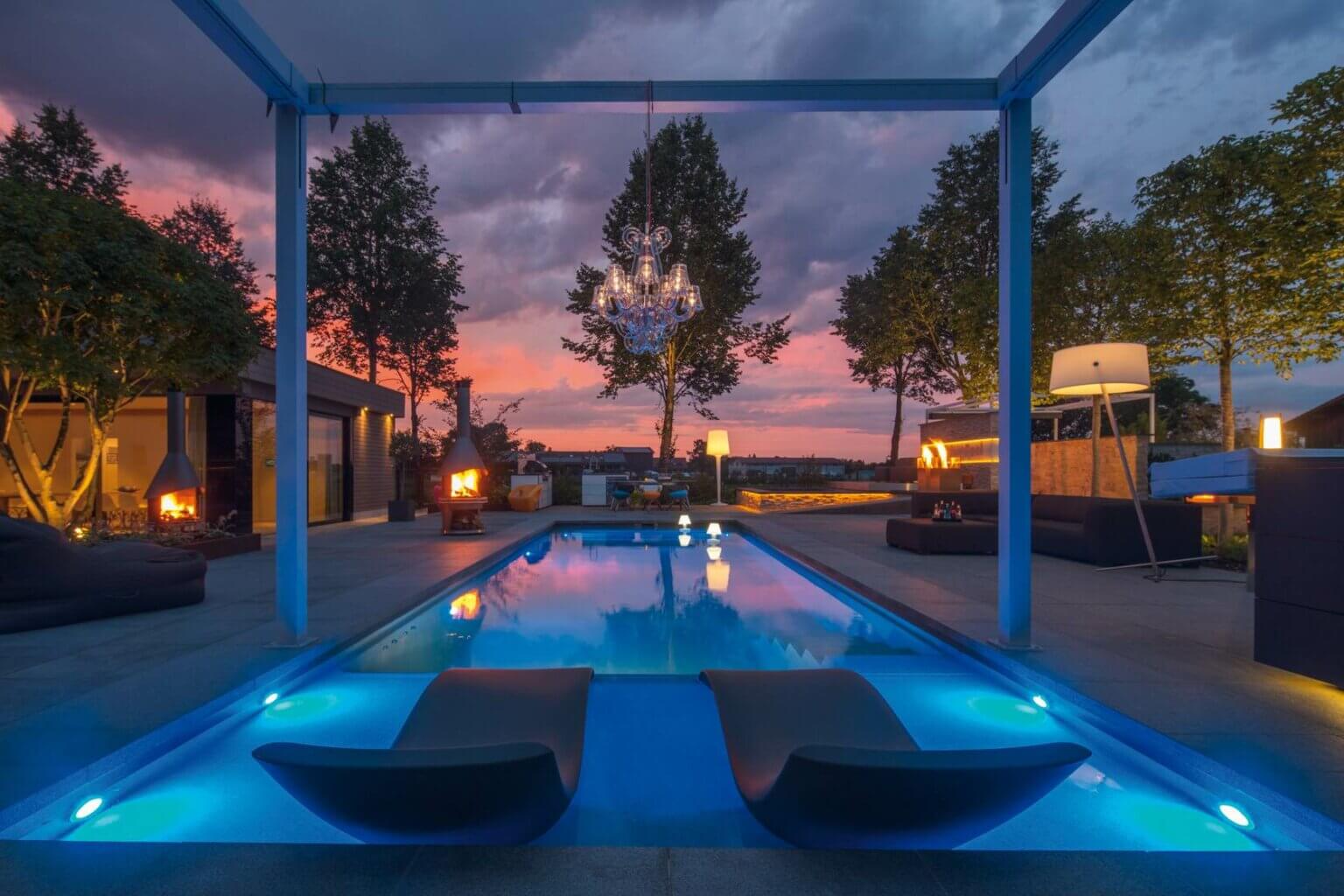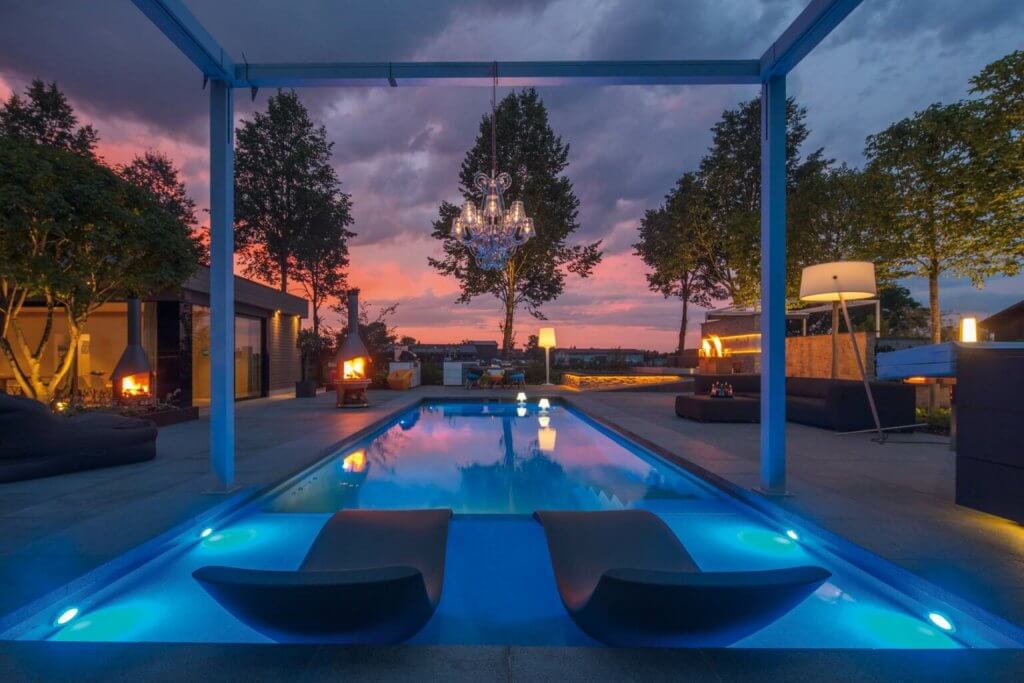 LINEAR RS
Simply brilliant 
At RivieraPool, we believe that there is nothing better than an efficient design. This secures and widens the first step, creating a shallow water area that everyone can enjoy. It creates space on the opposite side to install additional features such as our panoramic overflow, WetLounge, or counterflow system. Whichever way you look at it, the Linear RS offers the best in design and visually pleasing, technologically advanced pool solutions.  
Massage facilities
> 4 comfortable entrance steps with anti-slip profile surface 
> Flap tray integrated in the staircase 
> The first step serves as a shallow water space 
> Designed to combine comfort and functionality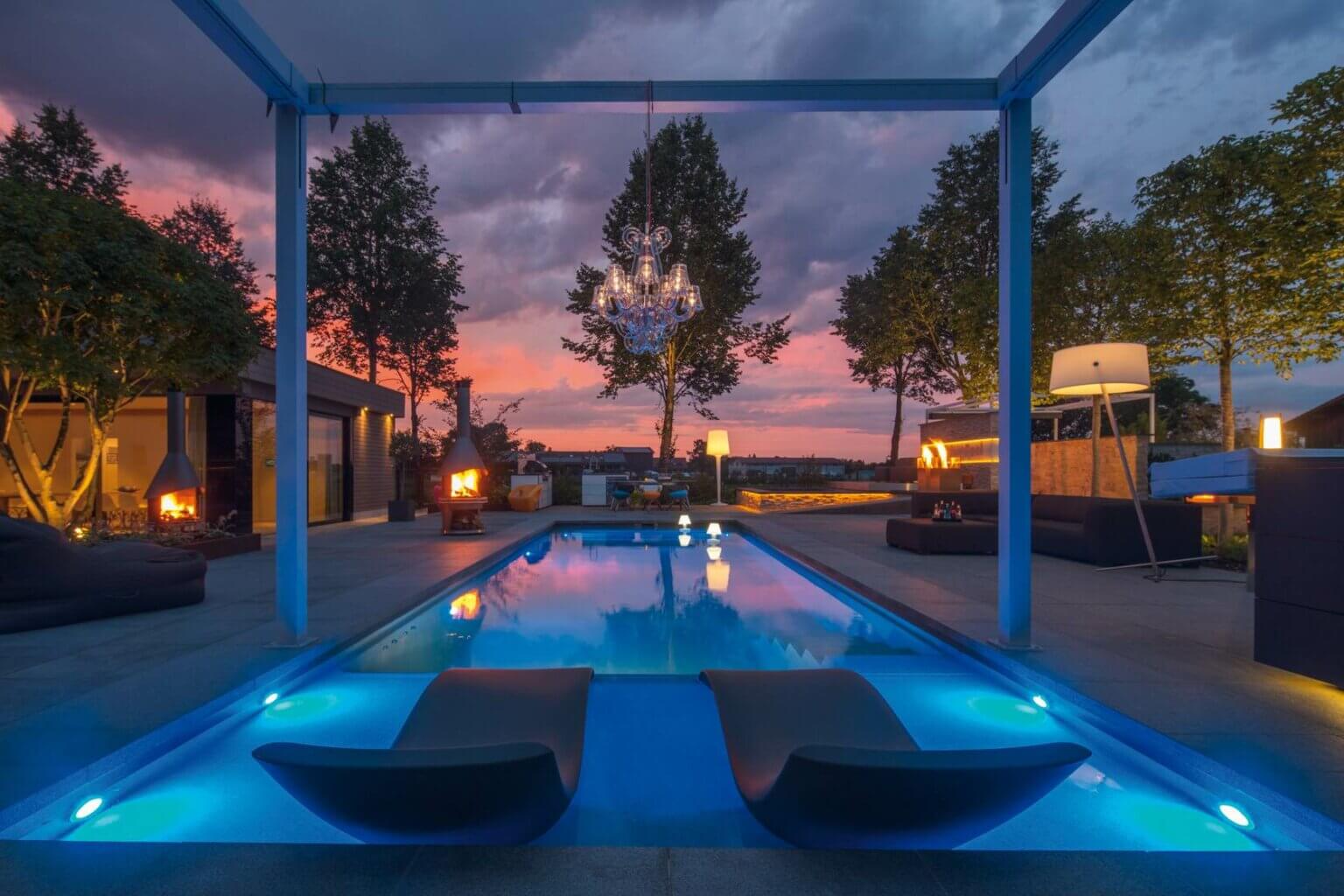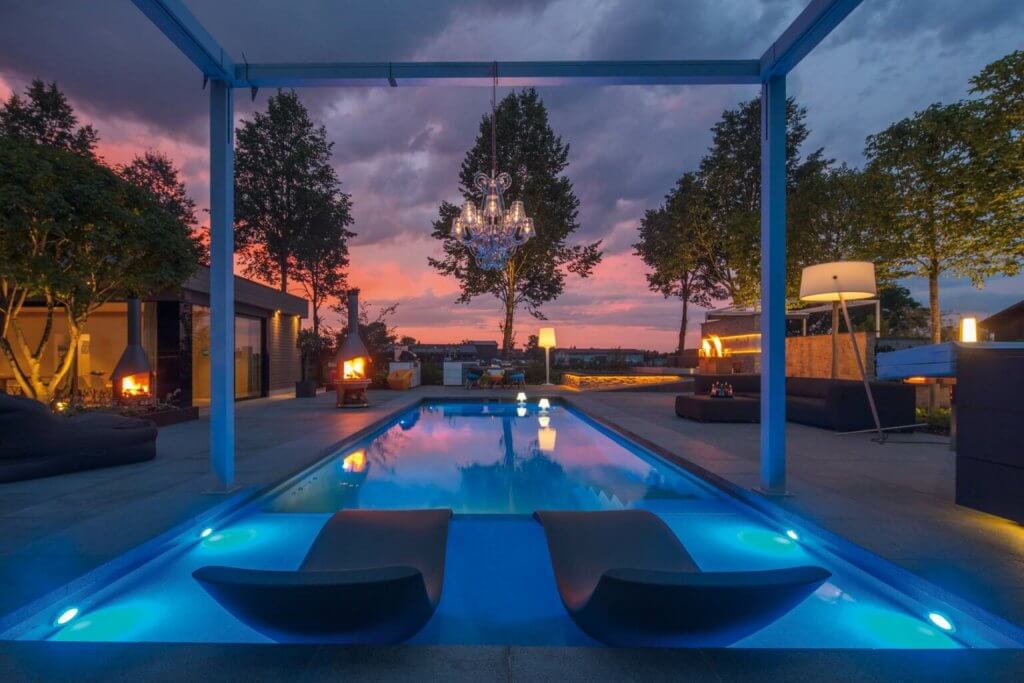 ROM
A classic style and design 
The "Rome" staircase has five steps set into a semi-circular entrance and opens towards the water. This installation offers a generous entrance with curved steps, giving the staircase an elegant, refined, and timeless appearance. 
Massage facilities
> Timeless design 
> 5 steps with anti-slip profile surface 
> Elegant and simple 
> One of our classics
> Optional underwater flap available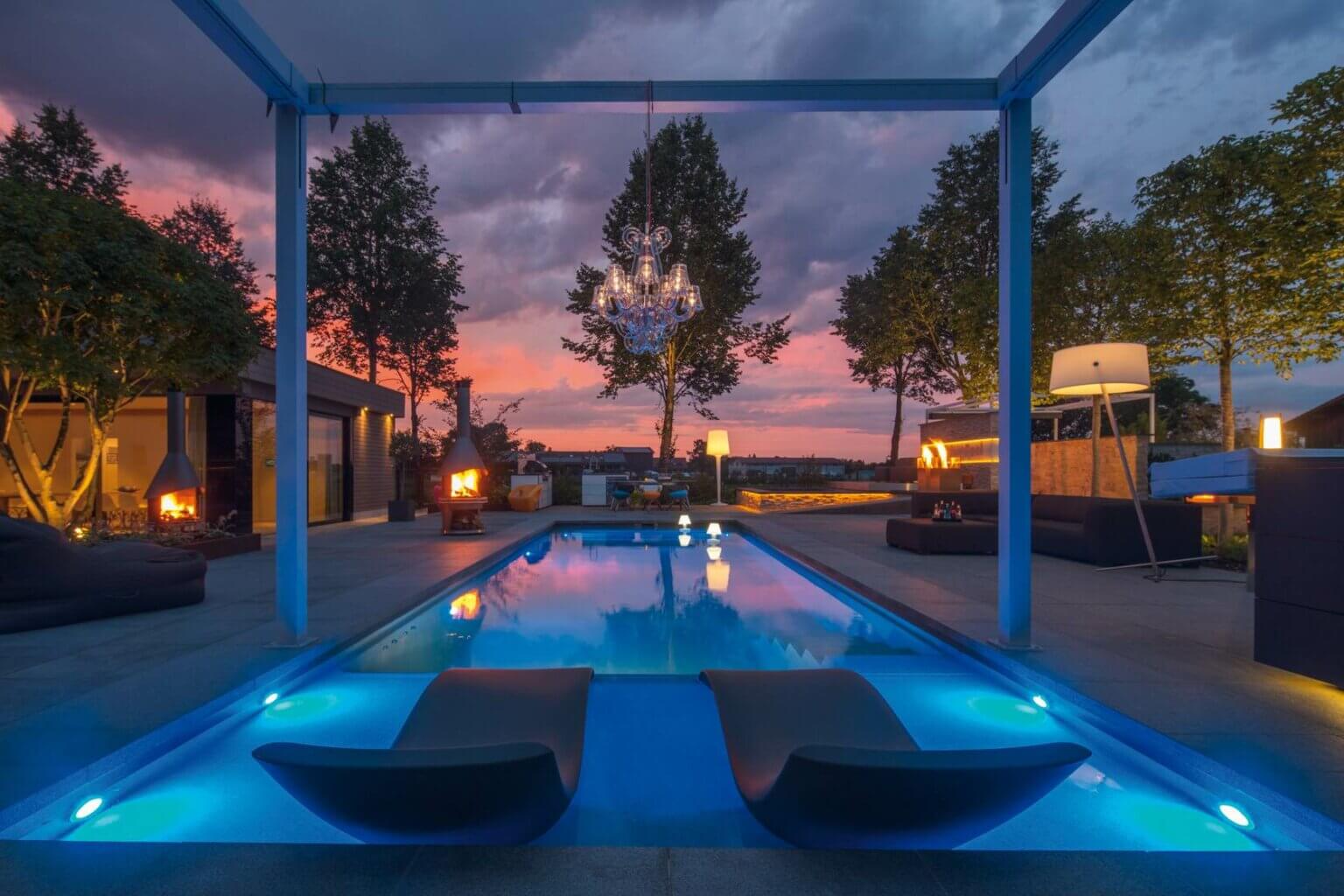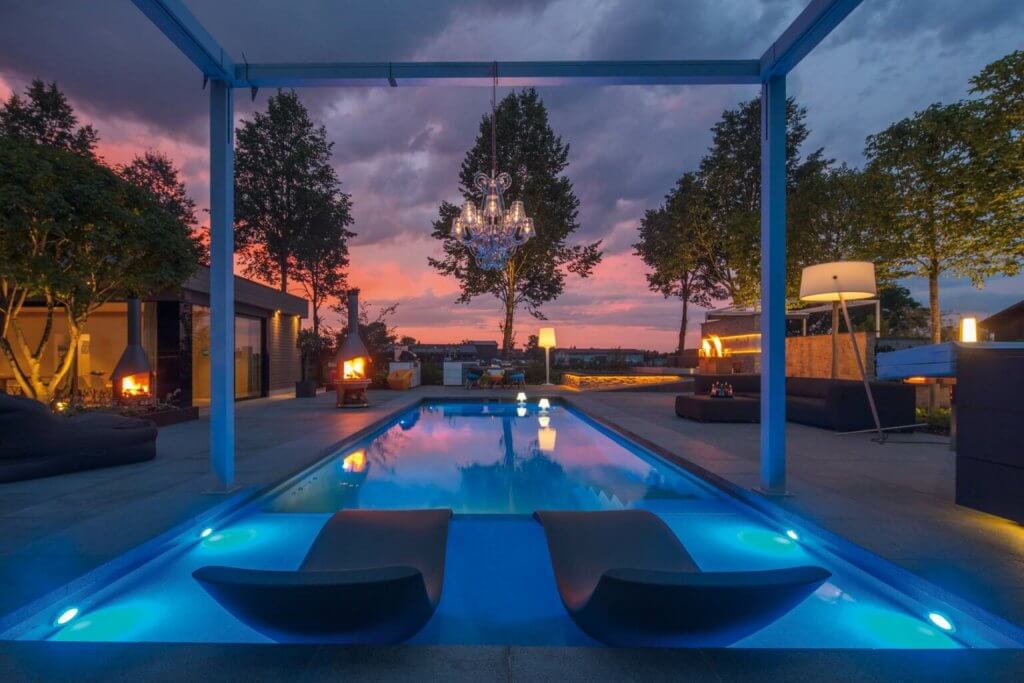 Color and water have a magical relationship. The optical properties of water can transform the tone, look and glow of any color, creating a unique opportunity to customize the mood and atmosphere of your pool. By combining specific colors and materials with water, RivieraPool is able to create a fully customizable visual experience.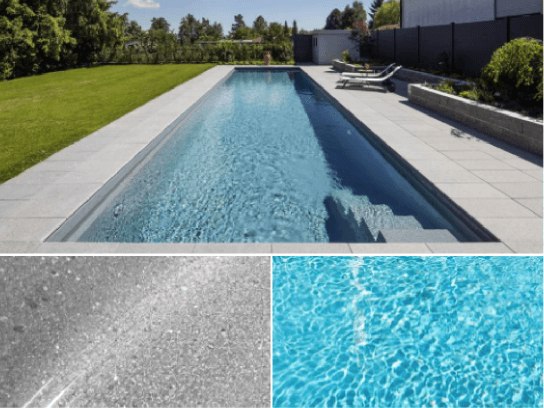 Granicite
The Granicite stone gray color gives an amazing natural stone look. Combined with natural stone paving around the pool, the result is truly stunning. By giving the illusion that the entire pool is constructed from a single piece of natural stone, the Granicite stone gray pool looks bright and cool in the sun and gives off blue water. The natural Granicite stone gray color will keep its shine over the years.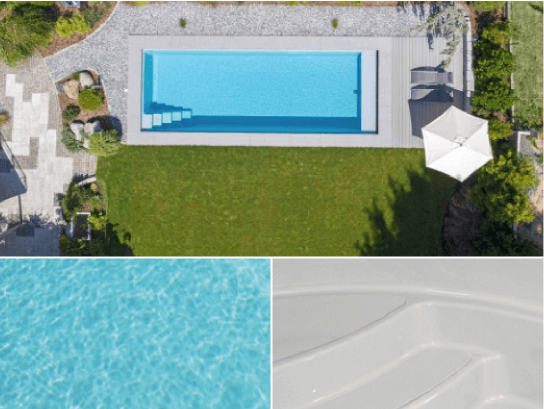 Silver-Gray
The "silver-gray" pool color is practical, elegant and beautiful. With water glistening at all depths on this subtle color, it brings a classic, clean look. The silver-gray pool offers a modern yet timeless look that is bound to please. Creating a bright blue hue in the water, this vibrant yet reserved color is suitable for any setting, occasion or size.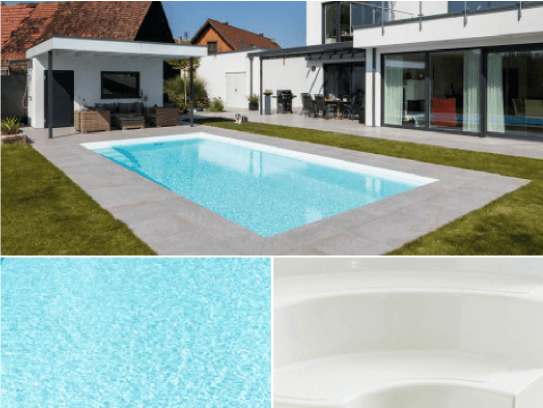 White
The water on a white surface takes on a pale blue color that sparkles in the sun. Polished stainless steel accessories bring style, contrast, and elegance to the pool. The use of white gives the pool a bright, fresh look that is both classic and modern. White gives the pool a distinct nautical feel and is also ideal for indoor pools. In the evening, the white pool provides the perfect backdrop for an exceptional atmosphere.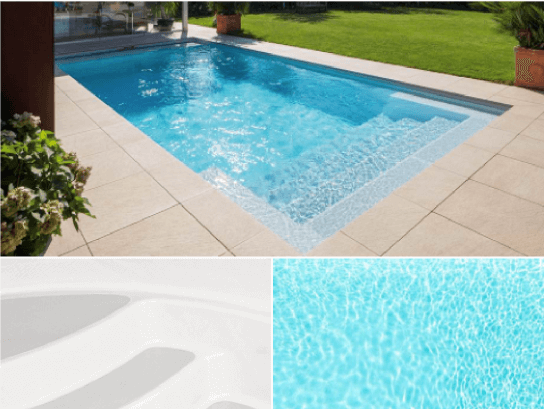 Papyrus
A chic, classic and easy-to-care-for color, Papyrus allows your pool's clean lines and elegant design to shine, while the color blends effortlessly into the landscape. Transforming the color of the water into a radiant blue, Papyrus complements almost any natural background or landscape design. The perfect match for your water garden.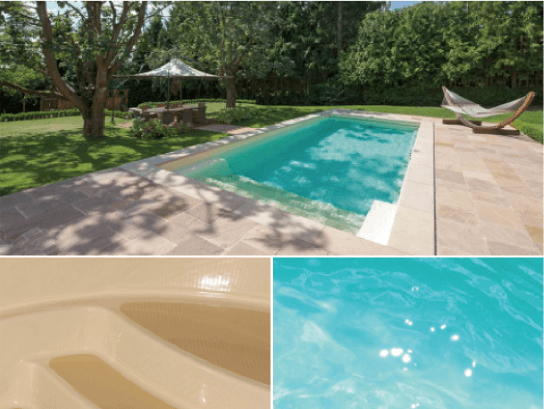 Beach
There's nothing more relaxing than lounging on a warm, soft sand beach. With our sand color, we will help you turn your swimming and water lounging area into your own little spot of paradise. Creating a rich, vibrant turquoise color in the water, our sand color will elevate the tropical vibe while providing a beautiful backdrop for your pool. White accessories and built-in railings provide a light and bright touch to the pool.
Blue
A delicately subtle monochromatic moment, our blue color brings a deep, lush, rich look to your pool that is both classic and easy to maintain. With integrated accessories and stainless-steel handrails, this timeless and elegant color combination is absolute perfection for anyone who loves the look of a strong light-blue hue. The luxurious look of our blue pool is simply divine.